Welcome
Our Book Fair competition winners!
Our Book Fair is in full swing and what a fantastic start we have had!
To get everyone in the spirit of the Book Fair, the children have taken part in a 'Where's Wally?' competition during the whole of last week.
Their task was to search for the six Wally characters in the library. Each Wally character had a number on the back, which the children had to use to crack the secret code and work out who the famous book character was.
After much excitement and many entries, four correct worksheets were picked from a 'hat'. The following lucky children were then able to visit the Book Fair and each chose a book that they can keep forever!
Archie Boyd in Rainbow Class
Holly Willett in 1EJ
Jasmine Yemm in 4SJ
Sienna Metcalf in 5MM
Archie was particularly pleased with his win!
Don't forget that you can still come along to the Book Fair after school tomorrow from 2.50pm!
Alternatively, write down the books that you would like to purchase on a piece of paper along with your child's name and class. Put it in an envelope with the correct money, marked for my attention, and I will have your books to you by next week.
Thank you for your ongoing support!
Mrs Thompson J
ORDERING BOOKS FROM THE BOOK FAIR
Hopefully by now you will all have received the Book Fair letter and leaflet that was sent out with the children last week.
You may also have noticed the deliberate mistake (ahem!) of directing you to the order form at the back of the leaflet, to use if you are unable to attend the Book Fair.
Please note that this year, there is no order form! Instead, if you would like to place an order, please jot down the details of the book(s) that you would like, with your child's name and class along with the correct cash in an envelope, marked for my attention.
I am sorry for any confusion caused!
Here is a reminder of the dates and times we are opening the Book Fair this week;
Wednesday 15th November 3.20pm - 3.45pm
Thursday 16th November 3.20pm - 3.45pm
Friday 17th November 2.50pm - 3.45pm
I look forward to seeing you then!
Best wishes
Mrs Thompson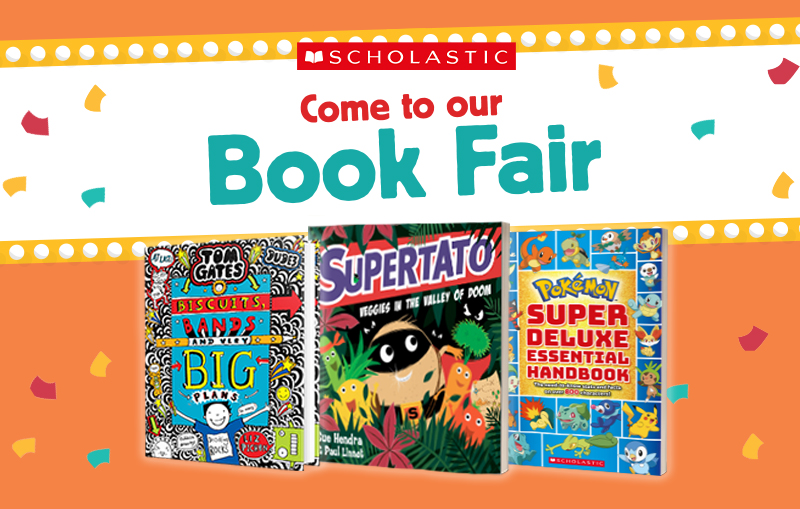 The Book Fair is coming!
On Wednesday 15th November, we will have the Scholastic Book Fair delivered to Place Farm Primary Academy!
We will be lucky enough to have the fair for a week, where the children can browse the books with their classes during the day and then purchase their choices after school!
There will be hundreds of books from only £2.99 and for each book purchased, we will earn free books for our school library!
Opening times for our Book Fair will be 3.20pm – 3.45pm in the Main School Hall on the following days:
Wednesday 15th November
Thursday 16th November
On Friday 17th November we will be opening 30 minutes earlier for some secret Christmas shopping! So if you would like to buy books without your children knowing, come along at 2.50pm on the 17th!
Keep a look-out for a letter and Scholastic leaflet coming home with the children this week. If you can't make the opening times for our Book Fair, but wish to make a purchase, please complete the order form at the back of the Scholastic leaflet with your choice of book(s) and return to your child's teacher in a sealed envelope with the exact cash. Please mark it for the attention of Mrs Thompson.
*Unfortunately, cheques and card payments cannot be accepted*
This is perfect timing for Christmas shopping!
Last year we took over £1300 in purchases which gave us over £800 to spend on books for our school. Let's see if we can top that this year!
Thank you for your ongoing support!
Mrs Thompson
We have our new Library Monitors!
At last, after receiving many fantastic applications, we now have our 6 new Library Monitors!
Please give a huge welcome to:
Dakota Bevan (4SL)
Maya Griffiths (4SJ)
Jasmine Yemm (4SJ)
Gracie Burch (5DG)
Stan'Leigh Thompson (5MM)
Emily Welling (6TW)
They have now received their Library Monitor badges and Certificates of Appreciation and they began their role as a Library Monitor last Monday. They are already doing a fantastic job! I am looking forward to them helping me over the coming weeks and for them to learn how the Library works.
At the end of January, the next six children will begin their stint as Library Monitors and then at the end of April, we will have the final six Monitors start their roles for the last part of this school year. Keep an eye out nearer the time for the children that have been successful.
A huge thank you to all of the children that applied to become a Library Monitor. Once again we had a massive response and I am overwhelmed by how many children love to come to Library and would like to learn more about it!