Welcome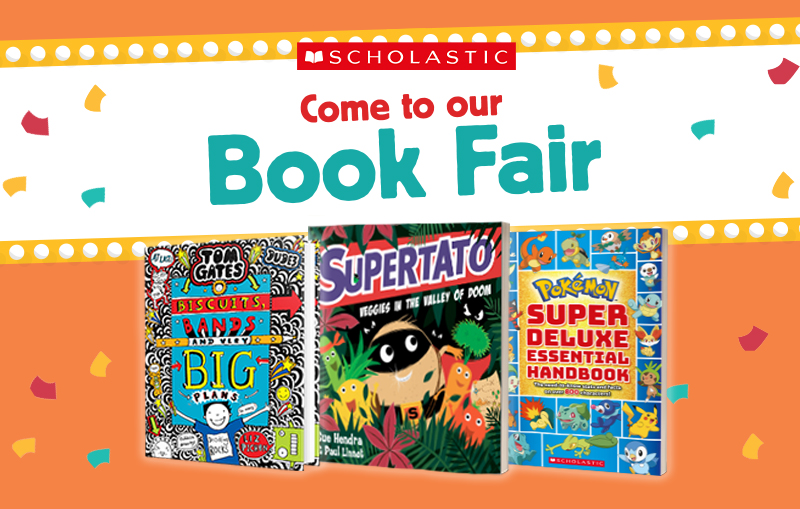 The Book Fair is coming!
On Wednesday 15th November, we will have the Scholastic Book Fair delivered to Place Farm Primary Academy!
We will be lucky enough to have the fair for a week, where the children can browse the books with their classes during the day and then purchase their choices after school!
There will be hundreds of books from only £2.99 and for each book purchased, we will earn free books for our school library!
Opening times for our Book Fair will be 3.20pm – 3.45pm in the Main School Hall on the following days:
Wednesday 15th November
Thursday 16th November
On Friday 17th November we will be opening 30 minutes earlier for some secret Christmas shopping! So if you would like to buy books without your children knowing, come along at 2.50pm on the 17th!
Keep a look-out for a letter and Scholastic leaflet coming home with the children this week. If you can't make the opening times for our Book Fair, but wish to make a purchase, please complete the order form at the back of the Scholastic leaflet with your choice of book(s) and return to your child's teacher in a sealed envelope with the exact cash. Please mark it for the attention of Mrs Thompson.
*Unfortunately, cheques and card payments cannot be accepted*
This is perfect timing for Christmas shopping!
Last year we took over £1300 in purchases which gave us over £800 to spend on books for our school. Let's see if we can top that this year!
Thank you for your ongoing support!
Mrs Thompson
We have our new Library Monitors!
At last, after receiving many fantastic applications, we now have our 6 new Library Monitors!
Please give a huge welcome to:
Dakota Bevan (4SL)
Maya Griffiths (4SJ)
Jasmine Yemm (4SJ)
Gracie Burch (5DG)
Stan'Leigh Thompson (5MM)
Emily Welling (6TW)
They have now received their Library Monitor badges and Certificates of Appreciation and they began their role as a Library Monitor last Monday. They are already doing a fantastic job! I am looking forward to them helping me over the coming weeks and for them to learn how the Library works.
At the end of January, the next six children will begin their stint as Library Monitors and then at the end of April, we will have the final six Monitors start their roles for the last part of this school year. Keep an eye out nearer the time for the children that have been successful.
A huge thank you to all of the children that applied to become a Library Monitor. Once again we had a massive response and I am overwhelmed by how many children love to come to Library and would like to learn more about it!
September 2017
A new school year in our Library!
I can't believe we are already into our fifth week back at school! What a busy time we have had!
The children have continued with Accelerated Reader as if they have never been away, and we are so proud of what they are achieving.
After the half term, we hope to begin our class competitions. This will involve how many words were read in a week, as well as the percentage of quizzes passed in the same week. I am currently working on a display to showcase these results. These will translate into prizes and hopefully motivate the children even more!
During the summer holidays, our Library has evolved into a fantasy land with a giant's foot and a huge book as just part of our new theme, not to mention the beanstalk vines!
We have also welcomed a huddle of Book Buddies into the fold! Children can now choose from a host of cuddly teddies from our shelf to keep them company whilst they read in the Library. They have proved immensely popular!
Take a look at how our library now looks!
Celebrating Roald Dahl Day
The nation recently celebrated Roald Dahl's birthday, when he would have been 101 years old on 13th September!
To mark the occasion, we ran a Dream Jar competition in homage to The BFG! There were some wonderfully creative entries and, after placing their dreams in our jars, five lucky children received prizes when they were randomly picked from the jars during their assemblies this week. The splendiferous Dream Jars will soon be on display in the Library for all to admire.
What's happening next in the Library?
We have lots coming up over the next few weeks. Choosing eighteen new Library Monitors for this academic year is at the top of the list. The children in Years Four, Five and Six who are interested in becoming a monitor are busy completing their application forms. The closing date is 6th October, so they still have plenty of time to apply.
In less than eight weeks, on 15th November, we will once again be lucky enough to have the Scholastic Book Fair visit us for a week. More information will follow nearer the time, so keep a lookout in the newsletter and blog.
Best wishes
Mrs Thompson
Readathon draws to a close
Wow! What a great time we have had with the Readathon Challenge!
The children have shown such enthusiasm, and we are all very proud of how they have embraced the concept of reading to raise money for poorly children.
Sponsor money should have been collected and handed into school by now, so thank you to all of you for your support with this. All money raised will earn us points to buy new books for our school, so everybody benefits from such a great cause!
To celebrate our achievement, we will be holding a family book share event in classrooms this
Friday 17
th
June from 2.30pm
. Parents/grandparents/aunts/uncles etc. are invited to come along and read with your child(ren), so feel free to bring in a favourite book.
Please come through either school gate as you would for the end of school; you will be pointed in the right direction for a
2.30pm
start. If you have more than one child, then you will have the opportunity to spend time with all of them, as this will run until
3:00pm.
Once again, a huge thank you for your on-going support and we will see you this Friday for a great celebration of our reading success!